Facebook
Facebook is a popular social network where customers can interact with companies. This integration creates tickets when customers post on your Facebook page or send you a message on Facebook Messenger.
To get started with Facebook:

Click "Add Facebook Page"
Authorize the Gorgias app on Facebook
Select the page you want to add
Choose your import settings
Click "Add Page"
Once you've added a Facebook page, every time someone posts on the page, comments on a post, or contacts the page via Facebook Messenger, it will create a ticket in Gorgias. When you respond to this ticket, your response will be visible to the customer on Facebook, and also to your team on the Facebook Messenger app.
If the agent who added the page to Gorgias no longer has admin permissions on the page, you'll need someone else to re-authorize the page on your Gorgias account.
Facebook comments
If you activate Facebook comments on the Facebook integration page, it will create a ticket in Gorgias every time a user comments on a post. Responses to comments sent from Gorgias will appear as a reply. Comments on "dark posts" are supported too!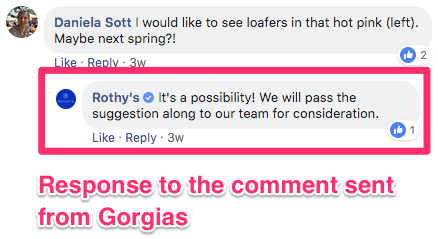 We currently don't support comments on carrousel posts. If this is important to you, please tell us in the chat so we can prioritize it!

Instagram comments
When a customer comments on an Instagram post, it creates a ticket. Then, when you reply, your response will appear as a reply to this comment.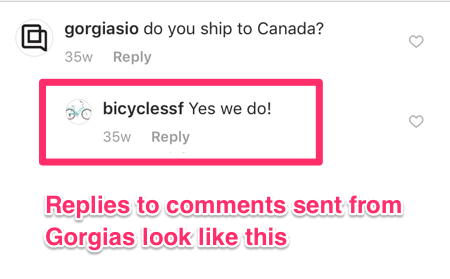 Comments on Instagram ads are not currently supported. If this is import to you, please tell us in the chat so we can prioritize it!
Customer chat
Website visitors can use customer chat to talk with the merchant on Messenger without leaving the store. If the visitor leaves, the conversation continues on Messenger.
It's a win-win for customers and merchants. Customers no longer have to leave their email address to start a conversation, and merchants no longer need to wonder whether their responses will be seen by customers who left their website.
The experience is optimized for mobile too. To start a conversation, click on the chat bubble, login, and start chatting with the brand.
Learn more about customer chat here.
---
---