Yotpo
Yotpo is a user-generated content tool for merchants. It includes customer reviews, visual marketing, loyalty, and referrals.

Integration benefits
Respond from Gorgias to Yotpo reviews under a certain rating (e.g. negative reviews), shoppers questions, past buyers answers, reviews picked up by profanity detectors
Setup instructions
Respond to Yotpo reviews from Gorgias
This feature is only available if you're on the Yotpo Premium plan. Learn more on their
pricing page
. 
In your Gorgias account, got to Integrations -> email
Copy your main support email address
Go to your Yotpo account
Click Moderation
Click Help Desk
Toggle on the Activate Help Desk integration switch
Enter the main support email address from step 2 in the Help Desk Email field
Click Send Test to send a test email to the address you entered in the Help Desk Email field.
Click the Save Changes button at the bottom of the screen
All set, now you can reply to your Yotpo reviews from Gorgias! 
Make sure to respond below the right line to respond publicly or privately.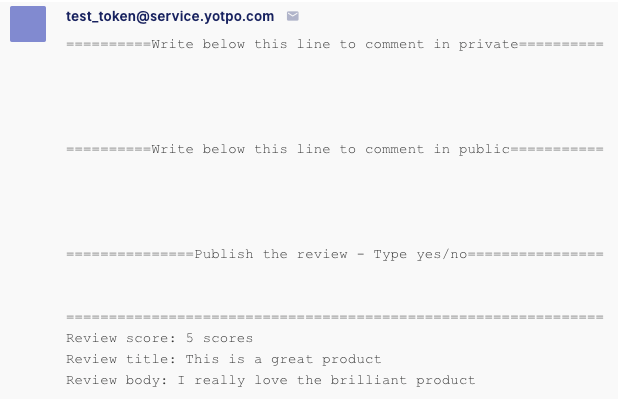 Nice job, you can now respond to reviews from Gorgias! Simply by adding the line you want to respond to, and then your comment.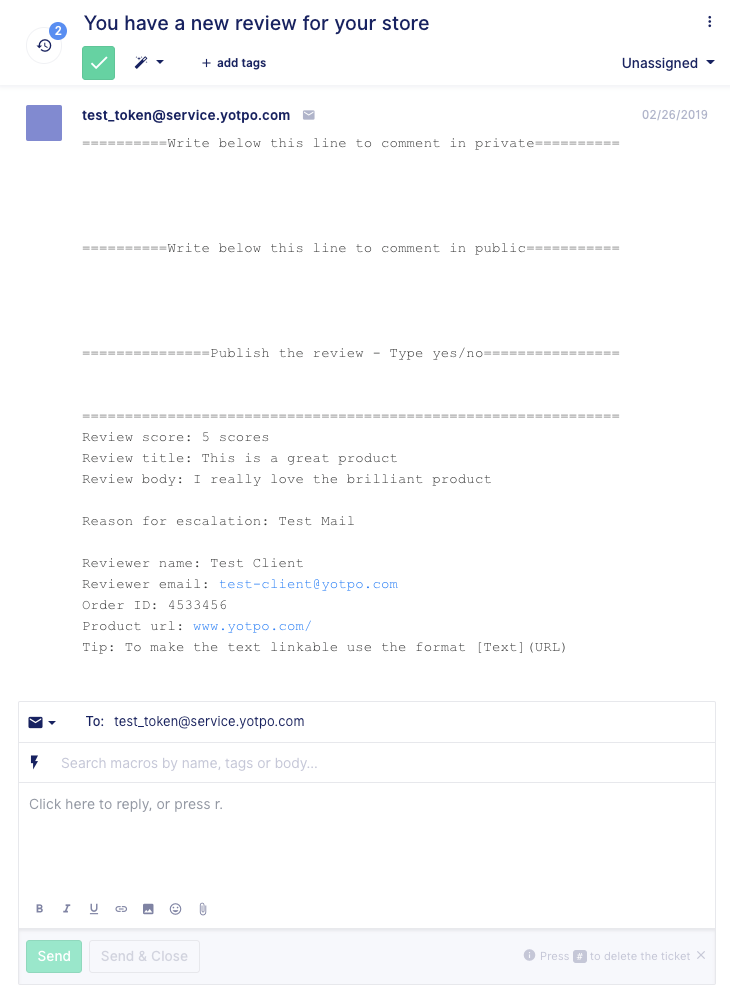 We recommend creating a macro that contains the following default text, so you can use as a frame to respond.

==========Write below this line to comment in private==========
          
          
          ==========Write below this line to comment in public===========
          
          
          ===============Publish the review - Type yes/no================


Frequently asked questions
How Does the Gorgias Integration to reply to reviews Work?
A customer writes a verified product review or asks a question.
This escalated review or Q&A receives a unique "reply-to" email address (for example reply‑01fe0aac6c504f121bcb70e17a6af129@yotpo.com.
The escalated review or Q&A is forwarded to the Help Desk address that you define.
By replying to the emails and adding text to the appropriate text sections, you can perform actions without leaving the Help Desk system. 
For example, Help Desk users can publish the review, comment on a review, or answer a question.
When you comment or answer, the reviewer/asker receives an email with your reply.

---